About Divaville
Divaville is a swellegant radio show highlighting the great voices who recorded between the 1920s and 1960s... the jazz standards, the American songbook. Cole Porter tunes, Irving Berlin melodies. It's a program that invites you to kick back with a cocktail or kick up your heels and swing.
This fun little hobby of mine sprang to life at Duke University's community radio station as a monthly program, one of 4 rotating shows broadcast under the umbrella of a "women's music" series.
That's how Divaville got its name: it began as a program which featured lady singers only. After only a few months, though, Divaville left the umbrella of the women's music series and started allowing male vocalists. At that time it also became a weekly program.
And I know what you're thinking: when the boys were allowed in I should have changed the name of the show. But c'mon... men can be divas, too. Am I right?!?
All of this happened --Divaville's birth-- sometime in the mid-1990s. That's not very precise, is it? Honestly, if I had any idea how popular this show was to become I would have noted the date of the inaugural broadcast. At the time, Divaville was simply a fun way for me to scratch a musical itch as I continued to explore the wealth of glorious vocal music from the era.
When I left North Carolina for Oregon in 2007, I hoped I could find a radio station that would be receptive to Divaville. I was thrilled that KMHD took me in and encouraged me to keep broadcasting this music that I love.
I am not paid to host the show. Divaville has always has been a fun and joyful creative outlet for me. I live in a state of constant surprise and delight, grateful that I've been allowed to entertain myself in front of you every week, for more than 15 years.
Oh, and by the way, I am not "the diva" -- the vocalists are! I am merely the Mayor of Divaville. :)
Thanks for tuning in and I hope you enjoy the show!
xo-
Christa Wessel
Your Benevolent Dictator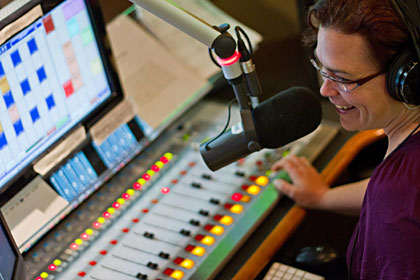 Christa Wessel, photographed at KMHD during a Divaville broadcast.
Photo by Andrea Leoncavallo